Top 5 UI/UX Design Bootcamps in DMV in 2023
UI/UX designers are crucial to the development of every single app and website that you use—literally every digital product that you see and touch is built by a UI/UX designer.
So it shouldn't be surprising that UI/UX designers are in high demand. LinkedIn currently lists 12,000 UI/UX open designer jobs, with more than 2,000 openings in the greater Washington D.C. area (also known as the DMV). To help meet this demand, UI/UX design bootcamps have emerged. These online programs offer streamlined learning and provide job-ready training, giving aspiring UI/UX designers the chance to complete their education in a fraction of the time (and cost) associated with a university degree.
Trying to figure out which UI/UX bootcamp to choose? Then you're in the right place. We've put together a list of the best UI/UX Design Bootcamps in the DMV area in 2023.
Understanding UI/UX Design Bootcamps
With a UI/UX design bootcamp, students learn skills that UI and UX designers use every day. UI is short for user interface. User interface designers focus on all visual elements like colors, shapes, buttons, and icons. UX is short for user experience. User experience designers focus on how users interact with the platform or their journey.
With a UI/UX bootcamp, students become proficient in all of this through immersive classes and hands-on projects. You can then add these projects to a professional portfolio that you can show to recruiters.
Some of the technical or hard skills you'll learn in a UX/UI Design bootcamp include:
User Research - Knowing what users want helps you create the best design or experience. Through user research, you'll discover your target audience's behaviors, preferences, and needs.

UX Writing - Once you've done your research, a UX writer puts the information together to create a journey for the user, one that is intuitive and flows so that the app or website is easy to use.

User Experience Design - At its core, user experience design is human-centered problem-solving. User experience design is the process of mapping out how a user moves through the app or website, addressing pain points, ease of use, and more.

User Interface Design - Most users immediately judge an app or website by its looks. User interface design is the creation of all visual elements like images, icons, pictures, colors, shapes, and 3-D graphics.

Wireframing and Prototyping -  Once you map out the design on paper, it's time to build a prototype or wireframe. Wireframing is the first step, using placeholders so changes can be easily made. Prototyping happens when most of the design is approved, and the real build starts so the app or website can be tested.

Information Architecture - This is the process of organizing all of the content, the research, design, wireframing, and prototyping into a sitemap and testing the user journey and navigation.
Comparison of the Best UI/UX Design Bootcamps in the DMV
At last count, there are 46 UI/UX Design online bootcamps, with a dozen based in the DMV area. While they all teach UI/UX design, some bootcamps give students access to industry experts and career support, while others provide unlimited mentorship. Here's a quick breakdown of the best UI/UX design bootcamp in the DMV and what students can expect.
University of Maryland Global Campus
The UI/UX Design Bootcamp at the University of Maryland Global Campus is a 100% online, flexible bootcamp designed for beginners. This regionally accredited school boasts a career-focused curriculum. Students learn to conduct research, design systems, and develop prototypes and animations. They are also paired with an industry expert for 1:1 mentorship while completing two industry-recognized capstone projects. There's also an optional 4-week real-world project, eight class units for career support and coaching, and 24/7 student support.
Rating
Features
4-week real-world design project (optional)

No prerequisites are required besides strong visual skills, clear communication, and creativity

Unlimited 1:1 mentoring sessions with industry experts
Duration
9-month part-time bootcamp at 10 hours per week minimum.
Price
Full tuition is $13,950, but financing options are offered. You can pay $11,900 upfront for a 15% discount, or pay $2790 a month for up to 5 months. Scholarships and loans are also available.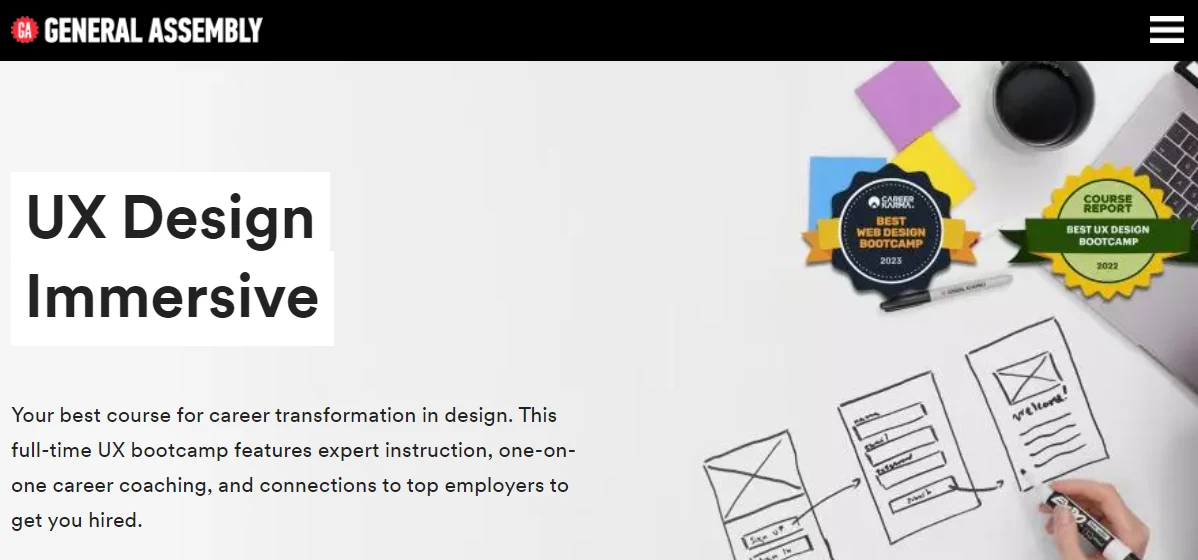 General Assembly's UX Design Immersive Bootcamp is a full-time in-person and online program featuring expert instruction from industry professionals, one-on-one career coaching, and access to 19,000+ hiring partners like Best Buy, NBC, Apple, and more. This immersive bootcamp provides hands-on experience with key concepts. Instructors give individual feedback and also help with career support.
Rating
Features
No prerequisites are required, but self-paced preparatory lessons are available for those who need them.

Access to 19,000+ hiring partners

Exclusive access to UX industry leaders through studio tours, hiring panel discussions, and guest speakers.

22 hours of optional, self-paced content is available to help with post-learning and job searching.
Duration
General Assembly's 12-week full-time bootcamp offers two time slots: 9 am-5 pm Monday through Friday, and 12pm-8pm Monday through Friday.
Price
$16,000 upfront, savings of $450

Pay in four installments $4,112.50 for a total of $16,450

Income Share Agreements, loans, and discounts are available
Noble Desktop UX & UI Design Certificate Bootcamp offers both in-person and remote learning options, and the classes are 100% live. It's one of the most affordable bootcamps available, costing less than $3,500. Computers and software are provided at no cost to in-person students. With this bootcamp, you'll learn fundamentals, user research and testing, and how to build a design portfolio. You'll also receive six 1:1 mentoring sessions with industry experts, and career support services.
Rating
Course Report - 5.0
Career Karma - 4.2
SwitchUp - 4.9
Features
Fully live and interactive in-person or remote classes.

No prerequisites required

Access to class recordings for one month after the session.

Lowest priced UI/UX Design Bootcamp at $3,495
Duration
24-week part-time program in the evenings for 132 hours of total class time.
Price
$3,495
The UI/UX Design Bootcamp from Thinkful offers two learning options, full-time and part-time. Full-time students participate in live classes with a cohort, while part-time students set their own pace. Students are matched with an industry professional for 1:1 mentorship, and the school offers free beginner-friendly practice exercises.
Rating
Features
Free beginner-friendly practice exercises.

Prerequisites include a 4-week self-paced prep course for full-time classes. No prerequisites are required for the part-time program. 
Duration
Full-time program: 5 months at 50 hours per week

Part-time program: 6 months at 20-25 hours per week
Price
Full-time program: Upfront discounted rate of $14,823 or $16,740 at $3,294/mo

Part-time program: Upfront discounted rate of $12,350 or $15,600 at $2,600/mo

Deferred tuition options are available.
Devmountian's UX Design Bootcamp is a part-time program that offers a career-focused curriculum. Students will learn about UI/UX research, information architecture, and prototyping. The bootcamp provides real-world experience and projects that you can add to your portfolio, all of which prepare students for an entry-level job. Devmountian has fully-live, immersive, in-person classes. However, it shines in the career support category, boasting a 100% in-field employment rate within 180 days of graduation. 
Rating
Features
Live in-person or remote options

Career support that includes LinkedIn best practices, interview prep, and employer networking

100% of bootcamp graduates get a job in the field within 180 days.
Duration
16-week part-time program, 20 hours per week
Price
$9,900 for the part-time program

Financial options include loans and several scholarship opportunities
The Rise of UI/UX Design Bootcamps
Simply put, UI/UX bootcamps have emerged because of the rising demand for UI/UX designers. Building software happens at a fast clip, especially when it comes to updates and redesigns. So companies need UI/UX designers today, not in the four years that it takes to complete a college degree.
Components of a Top-Notch UI/UX Design Bootcamp
There are five essential features to consider before signing up for a UI/UX Design bootcamp:
Curriculum. Look for online bootcamps with a full curriculum that includes teacher-led lessons and hands-on projects and exercises.

Design courses. A great UI/UX design bootcamp focuses on theories of design, understanding visual languages, and tools of the trade like Figma, Sketch, and Origami Studio.

Mentorship & Instructors. There are two major advantages to having mentorship or instructors who work in the industry. For one thing, these professionals provide context and an upgraded learning experience. Second, they can help students network and can be a reference for employment.

Capstone Project. Capstone projects are recognized as an industry standard for mastery of real-world skills and are considered the cornerstone of a UI/UX design bootcamp. Online bootcamps with one or more capstone projects help you build a professional portfolio future employers can trust.

Career Support. Career coaching, interview preparation, and resume building are the final steps toward a successful career. Many online bootcamps offer career support as part of the curriculum or as add-on learning units. Some even offer a job guarantee.
UI/UX Designer Career Path
Not sure if you want to be a UI designer or a UX designer? A UI/UX Design bootcamp can help you decide while also setting you up for long-term success.
Most UI or UX designers go on to specialize. Some bootcamps, like the University of Maryland Global Campus UI/UX Design Bootcamp, provide students with an opportunity to learn skills related to the specializations:
UX Researcher

UX Strategist

Motion Designer

Product Designer

Information Architect
The Benefits of Online UI/UX Design Bootcamps
Here are the major benefits of choosing an online UI/UX design bootcamp:
Price. An online bootcamp usually costs thousands less than a college or university degree program and is more cost-effective than taking separate online courses.

Time. Not only will you learn skills in just a few months compared to a two to four-year degree program. Some UI/UX design bootcamps offer both full-time and part-time options, making it easier for those who need to work while completing their education.

Real-World Skills. Bootcamp graduates complete projects that reflect scenarios UX/UI designers deal with daily.
The UMGC UI/UX Design Bootcamp allows for more overall flexibility and accessibility, giving future UI/UX designers an edge with access to experts, 100% online self-paced learning, and advanced career coaching.
Preparing for a UI/UX Design Bootcamp
Committing to a UI/UX design bootcamp is a big step! And we're here to help with a pre-enrollment checklist:
Determine whether you want to commit to a full-time or part-time bootcamp.

Decide between taking in-person or virtual classes or setting your own pace.

Need financing? Talk to the admissions team about payment options and scholarship opportunities.

Make sure you have a computer that can run the design programs you'll be working with.
Jumpstart Your Career With A UI/UX Design Bootcamp
With a high job growth rate predicted for the foreseeable future, now is the time to capitalize on a career in UI/UX design. The UI/UX Design Bootcamp at the University of Maryland Global Campus is one of the best in the DMV area. Our flexible, part-time, 100% online bootcamp pairs you with industry experts and provides career support that can help you land a job in the DMV. For more information or to apply, contact an admissions advisor today.