Top 5 Software Engineering Bootcamps in the DMV
Software engineers are responsible for building every mobile app, website, and piece of software that you use every single day. So it's no wonder that they're in such high demand in today's increasingly digital world. For those looking to learn marketable skills, a software engineering bootcamp remains one of the most effective ways to break into the industry without a degree. A software engineering bootcamp gives students foundational software engineering principles, all under a flexible scheduling model. But there are countless software engineering bootcamps, particularly in the DMV area. How do you know which one is right for you?
Below, we'll explore some of the best software engineering bootcamps in the DMV, and give a breakdown of each. We'll cover each bootcamp's features, tuition cost, scheduling options, and more, all of which will help you narrow down your options and choose the best software engineering bootcamp for you.
Understanding Software Engineering Bootcamps
Like other educational bootcamps, a software engineering bootcamp consists of a market-driven curriculum designed to teach the most valuable skills required for the field. Students learn with an instructor-led model and have access to mentors around the clock. With the freedom to school from home, students can strengthen their portfolios without interfering with their life and work schedules.
Bootcamps can offer training in as little as 12 to 14 weeks. In addition, software engineering bootcamps provide hands-on training and real-world practice, all with a flexible scheduling model. This flexibility includes opportunities for both part-time or full-time schooling, whichever fits your needs. A full-time course load typically consists of 50+ hours of weekly work, while a part-time load is closer to 20-25 hours. The great thing about a bootcamp is that you have the option to choose which schedule works best for you.
Comparison of the Best Software Engineering Bootcamps in the DMV
Are you searching for the best bootcamp but aren't sure which one to choose? Let's take a look at the top 5 software engineering bootcamps in the DMV and see what each has to offer.
University of Maryland Global Campus
The University of Maryland Global Campus Software Engineering Bootcamp offers its students a robust, project-based curriculum. These projects can serve as the foundation for your professional portfolio, which is an absolute must for getting hired as a software engineer.
Rating
Niche: 4.0
Features
Weekly video conferences with a 1:1 mentor

Student advisors

Career coaches

Custom capstone project using your preferred tech stack
Duration
9 months at 15-20 hours per week
Price
The total tuition price is $13,050, with month-to-month payment plans and a 24% discount for paying upfront. Student advisors are available to discuss scholarship options.
NuCamp's Software Engineering Bootcamp includes 4 unique bootcamps and focuses on JavaScript, PythonMicrosoft Azure, Google Cloud, and more. Flexible schedules are available to suit your needs.
Rating
Course Report: 4.75
Features
Projects with two of the most commonly used database engines, MongoDB and PostgreSQL

Courses on the top 3 cloud providers, including Amazon AWS

Opportunities to build full-stack projects

Career prep with your LinkedIn and GitHub profiles
Duration
11 months, 1,400+ total hours
Price
There are several payment plan options, including interest-free or deferred options. The starting range is between $3,893-$6,375.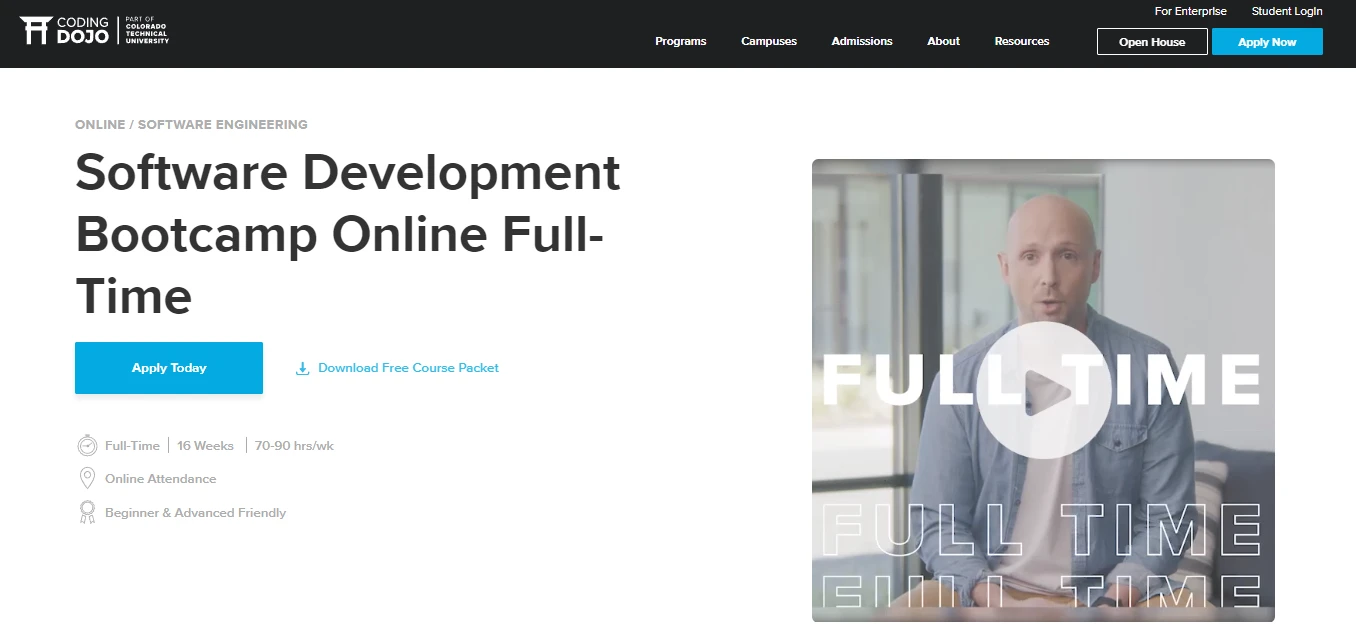 Coding Dojo's three-stack course gives you the tools to round out your software engineering skills. With hands-on learning and support from industry experts, Coding Dojo's platform can help you launch your career, as they've done with 13K+ other bootcamp graduates.
Rating
Course Report: 4.42
Features
A curriculum focused on front-end and back-end tech

Basics of coding and programming, such as web interface and data manipulation

24/7 cohort access through their Discord community

Unlimited career services
Duration
16 Weeks, 70-90 hours per week
Price
$16,995, with plenty of financing options and scholarship opportunities.
Full-stack development is made easy with Clarusway's Full Stack Development Course. It'll teach you web development tools such as React and Node Js + Express Js. It also includes IT Fundamentals and modules for both front-end and back-end development.
Rating
Course Report: 4.95
Features
370 hours of didactic video sessions

210 hours of labs and project sessions

Career services, mentoring, workshopping, and an internship
Duration
32 weeks
Price
$11,500 upfront cost, or pay with an installment plan and save $3,200 on tuition. There are also student loan options.
With both part-time and full-time options, Coding Temple's Software Engineering Bootcamp can help you launch your career. You'll learn the fundamentals of full-stack development, frameworks and APIs, and the core concepts of programming.
Rating
Course Report: 4.9
Features
A comprehensive curriculum

Live instruction

Continuing education

On-demand support

Dedicated student advisor
Duration
Coding Temple offers three timeframes: full-time (12 weeks), part-time (14 weeks), or flex (6 months).
Price
The tuition depends on your course load, but here are the options:
Full-time: $15,995+

Part-time: $12,495+

Flex: $7,000+
The Rise of Software Engineering Bootcamps in the DMV Area
The DMV area, and particularly Washington D.C., is a prime tech hub where software engineers are crucial to government and military industries. As our world continues to grow more digital, software engineers have become a necessary staple for any industry, be that commerce, education, health, or government. What better way to train up the next generation of software engineers than by an expert-crafted bootcamp that gives students the best skills for their future careers?
Coding bootcamps in Washington, D.C. are on the rise. Given the countless tech startups and D.C.'s status as the center for policy leaders, it's no wonder that software engineering bootcamps have continued to emerge in the DMV area. The market for coding bootcamps alone is projected to grow by 12.27% by 2030. These astounding statistics point to a future increase in both student population and bootcamp availability.
The number of remote jobs seems to grow at an exponential rate, and with that growth comes a higher demand for flexible schooling. Software engineering bootcamps provide excellent opportunities for those who need to learn specific skills from industry experts, all in an at-home environment.
Elements of a High-Quality Software Engineering Bootcamp
With such a huge number of bootcamps, it can be hard to tell which ones suit your needs. When searching for the best software engineering bootcamp, you'll want to make sure the bootcamp provides these vital components.
Full-stack developer training: Knowledge of both front-end and back-end development makes you an attractive candidate, so you'll want to find a bootcamp that trains you in full-stack tech skills.

Income sharing agreements: ISAs are student loans that help fund your schooling and let you pay back your debt based on a fixed percentage of your future salary. It's a helpful payment option for those who need to search outside traditional tuition options.

Data science basics: Bootcamps should target beginner audiences, which means their curriculum should include the fundamentals of data sciences. Without that foundation, your skills will flounder.

Real-world experience: A high-quality bootcamp should immerse students in quantifiable learning opportunities by providing practical, hands-on projects. This real-world experience can then be applied to the diverse career paths in software engineering.
The Benefits of Online Software Engineering Bootcamps
Remote learning has become an increasingly popular way to accommodate all types of learners. By offering an accessible learning experience, online software engineering bootcamps see that every individual has the chance to enter the workforce as prepared as they can be without having to sacrifice prior commitments.
Well aware that everyone has different and unique demands on their schedule, software engineering bootcamps provide multiple course load opportunities, such as part-time or full-time; a 12-week program, or a 6-month program. Whatever your needs are, an online bootcamp can accommodate you.
UMGC's Software Engineering Bootcamp makes learning accessible with its flexible, online program. By accommodating more than just one scheduling option, it ensures that all students are given the right tools for a successful career.
Preparing for a Software Engineering Bootcamp
Here are some things to consider before enrolling in a software engineering bootcamp.
Prerequisites
Some software engineering bootcamps are open to beginners, while others require basic coding and programming knowledge. UMGC's Software Engineering Bootcamp, for example, doesn't require prior coding experience. Beginners can enroll in the Foundations+Core course, while intermediates can test into the more advanced course.
A bootcamp's requirements page can guide you throughout the process. Admissions advisors are also available to help you determine if you're qualified.
Payment Options
Bootcamps offer a variety of financial options, whether that's a discounted upfront cost, monthly payments, or income sharing agreements. Many bootcamps also offer scholarships and other affordable payment plans that can suit your needs.
Helpful Resources
Websites like Course Report and Niche are helpful places to find reviews on a particular university. Online forums, like Reddit, are another place to find honest feedback on a given bootcamp. And while the FAQ pages on a given bootcamp can be helpful, it's often best to just ask former and current students about their experiences.
Choosing a Bootcamp That's Right for You
With so many data science bootcamps in the DMV area, you want to be sure that you're picking a bootcamp that equips you with the skills you need for your future career. The best software engineering bootcamps promote industry-standard coding skills, such as CSS and HTML. A good bootcamp should also include a project-based curriculum and 1:1 support. UMGC's Software Engineering Bootcamp offers all this, while also being 100% online and fully flexible. Its highly-rated program continues to shine as one of the best in the DMV area.